It Feels Good To Be Me Reviews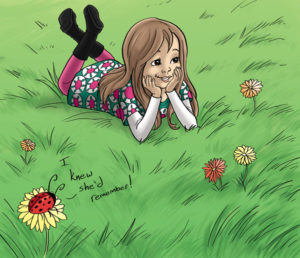 Let me start by saying, WOW! I was so impressed with this book. As a child growing up, I never felt comfortable in my own body, always negative so at times, I wasn't happy.
If I would have thought the way this girl did, I would have been more positive and a lot happier.
If young people and adults alike thought more this way, there'd be a lot more people smiling in the world.
Definitely would recommend this book for not just the young but all age groups. It was positive and inspiring.
~ Catherine Sanchez,
Elementary School Paraprofessional
---
It Feels Good To Be Me! teaches children one of the most important skills that will help them throughout their whole life. It teaches children that their feelings are their guide, which relate to their thoughts that they have about themselves and the world around them. It also shows children that they have the power to create a new thought based on the idea that they are meant to be happy.
This book is a great resource for teachers to create a safe and loving environment where social and emotional learning is in place for the concepts are based on empowering children to be happy and feel good about who they are while navigating through a demanding curriculum.
~ Gail Shapiro,
Special Education Teacher
---
It Feels Good to Be Me is a book that should be on every child's bookshelf.  It is a powerful and fun story about building confidence and self esteem, while teaching children that they have the power to be happy. I feel this book really resonated with the lessons I want to teach my children and it did so in a fun, age appropriate way.
The illustrations are dynamic and really kept my children engaged.  They love repeating the phrase, "It feels good to be me" and I love hearing them say it. I absolutely love this book as much as my kids, and I definitely feel it will help empower them to love who they are.
~ D. Kuenstler,
Parent
---
"It Feels Good To Be Me" is truly a gift of love! Mrs. Livoti has captured the essence of what courage truly is! This colorful book embodies the anti-bullying message in a charming, child-friendly way. It's a great stepping-stone for future character building lessons. Best of all, it's empowering while building a child's self-esteem.
~ Maria McGinley,
K-6 Teacher
---
"It Feels Good To be Me" marked the beginning of my daughter's love of reading. It has a great message for children (boys and girls) and adults too! You are in charge of your feelings and thoughts…so choose to feel good and empowered! This book is so creative and beautifully illustrated. "It Feels Good To Be Me" is one of my daughter's favorite books…it even comes on vacation with us!
~ Rachel,
Parent